On May 13,2016, Huanren county magistrate accompanied Mayor Cui of Benxi, Mayor Qu, Dean Lu of Shenyang Medical University and other members of the leading group to visit and guide Hengyuantang Pharmaceutical Co. , Ltd. . Mr. Wu Meifu, chairman of the Board of Directors of the company, accompaniede th whole journey.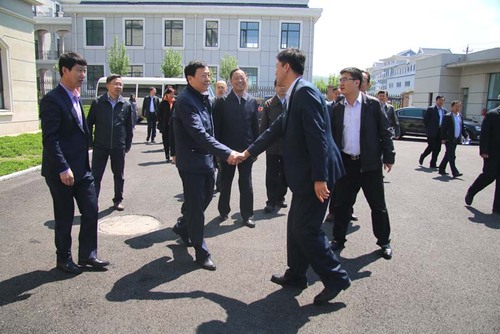 First of all, the director of the company on behalf of all the staff of the company warmly welcomed the arrival of the leaders, and made a detailed report on the company's development plan for the next five years. At the same time, he accompanied the leaders to visit the plant area and the GMP workshop together, and with the leadership of 2016 analysis of Drug Administration, supervision and bidding situation. After the visit, the chairman of the Board of Directors of the company fully expressed Hengyuantang Pharmaceutical's future response measures, striving to give full play to the advantages of authentic medicinal materials and brands, and expand and strengthen the enterprise, and practice "love life, care for health, do good medicine, for the people" social mission. Mayor Cui also agreed with Hengyuantang pharmaceutical's achievements in recent years and its future development plan, and asked the company to make use of its existing scale and make it bigger and stronger through its own advantages in order to achieve better results in the next five years. Mayor Qu stressed that pharmaceutical manufacturers have their particularity, must ensure product quality, take the route of differentiation, develop some good varieties listed as soon as possible.
Later, the president of Shenyang Pharmaceutical University road, the mayor of Benxi, Cui and the chairman of Hengyuantang, etc. , jointly held a plaque unveiling ceremony for the Shenyang Pharmaceutical University to set up a practical education base at Hengyuantang Pharmaceutical.